Welcome to my Studio. I have been very busy making some new illustrations. And I just posted a few here on the front page.
Many of these illustrations were made for someone to give as a great present. When I am through with the illustration you can recieve a print and/or a digital file.
It's lots of fun making these Personalized Monster Graphics. So send me a couple of photos with a description of who, what and where...I will get back to you with a quote and timeline. - Arlo Dillman -
---
Wisconsin Hot Rod Radio
Captn Bob and Arlo are the hosts of this very unique show. For over 3 1/2 years of helping car people find car shows.
And now along with the Saturday Morning Radio Show there is the popular www.wisconsinhotrodradio.com website. Plus, now you can receive weekly notices of car shows, special guests and great fun.
Every show has plenty of additional information beyond what is written on the flyers, regarding Wisconsin and Illinois car shows. And most of the radio shows have some really cool guest on. Like the people who run the car shows. Interviews with famous people like Edsel Ford, Vic Edelbroch, Gene Winfield, Adam West, George Barris, Big Daddy Don Garlits, Troy Trepanier and more. That's why they hear from listeners from all over the world.
Keep tuning in. Don't forget...the show is on Saturday mornings on AM1340 from 9 to 10 am. And keep going to the website. www.wisconsinhotrodradio.com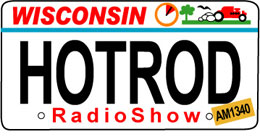 3D Surf Helmet
The helmet was commissioned to reflect the ArloMobile's unusual interior. And as you can see it's alot of fun. The helmet is completely 3d sculpted with teeth and eyes in front and in the back. It's complete decorated inside and out. Made of light wieght materials so as not to be to heavy on the old noggin'.

The helmet was donated for auction to the "Hanna's Heart Foundation" which is involved with Iowa's 2010 Vintage Torgue Fest event.